Morrowind Challenge: Middle-Earth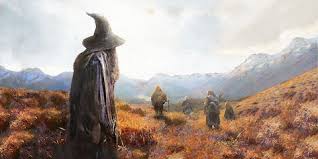 Foreword
I was totally inspired by this LOTR challenge for WOW classic and figured we could do something similar, maybe even better for Morrowind.
We are not trying to recreate the events and characters of The Hobbit or The Lord of The Rings, but merely using them to shape our Morrowind adventures.
Vanilla challenge: no mods, more characters.
How to win
Bring Calvus Horatius (Frodo) and the Pack Rat (Gollum) to the Red Mountain
He must carry:

The Engraved Ring of Healing (The One Ring)
Keening (Sting)
Adamantium Cuirass (Mithril Cuirass)

Grand finale: Have the Pack Rat fall into the crater while carrying the ring.
Choose your character
You are Sam
Bard class (Sam is a gardener =alchemy and sings well)
No shoes or boots
Collect the rarest flowers: Wolfbane and Roland's Tear
Sam is a temporary Ring-Bearer: he can use the Engraved Ring.
He is however a simple Hobbit and will not use any Legendary artifact
You are Gimli
Warrior class
Axe only
Never increase your speed
Prove the Dwarves are superior to the Elves: defeat Gaenor.
You are Boromir
Knight class
2-Handed weapons only
Lord birthsign (You are the eldest son of the Stewart of Gondor)
Acquire the Lord's Mail
Never equip a ring (they make you lose your mind)
You are Gandalf
Mage class
Elderly face
Only fire element
Wear the Colovian Fur hat in lieu of a Wizard hat
Acquire the Staff of Magnus, the Warlock's ring and Goldbrand (Glamdring)
You are Legolas
Archer class
Lady birthsign (you're of royal blood AND pretty)
Male Wood Elf (I list this as a handicap ;) )
You cannot use anything made of metal
Acquire the Bow of Shadows
You are Aragorn
Scout class
Lord birthsign or Steed
Lawful good
Reforge Trueflame (Andúril)
Defeat King Helseth
Additionnal challenges
Defeat Umbra (Uglúk)
Defeat Divayth Fyr (Saruman)
Defeat the Fire Atronach in Mount Kand Cavern (Balrog)
Defeat the Goblin Warchiefs in Old Mournhold: Tears of Amun-Shae (Azog)
Modded Challenge
How to win
Bring Fargoth alive and wearing a mithril mail, Sting as well as the One Ring to Dagoth Ur (the place) and convince him to toss the Ring.

Get the Mithril Mail from a Dwarven Specter
Get Sting form a Solstheim troll
Level your Speechcraft to 60
Alternatively, you can have a creature companion and have them jump in the crater with the Ring like Gollum did.
Fargoth is utterly useless as a companion, and he won't level up. However, if you give him the following item, he will get constant buffs:

Mithril Mail: higher defense (duh), fortify Light Armor +100 and unarmored +50
Sting: fortify Agility and Speed +50
An Elven Cloak: frost immunity
Elven-Way Bread: constant +50 fortify health
Balrog (Fire Atronach in Mount Kand Caver) relic: immunity to Fire and Shock
Shelob (Red Mountain Pass) relic: immunity to poison, and diseases
Azog (Goblin Warchief in Old Mournhold) relic: immunity to normal weapons
Uglúk (Umbra) relic: Reflect and immunity to paralysis
Find the other Rings of Power
The relics have a limited effect on you.
Modlist
Must-have
Recommended
For Sam
For Gimli
For Gandalf
For Legolas
You are Sam!
Chargen
Halfing, male
You are a Gardener, you go on a quest to destroy evil, travel long distance and like to sing: Bard, Witchhunter, Pilgrim or Scout.
Perks
Start game with Halfling clothing and a backpack.
The Friend powers (Let's be friends/charm, Patch up/restore health and Shrug It Off/dispel)
Fargoth lets you use Sting and the Mithril Chain Mail.
When havesting flower ingredients, you have a chance to find flower extracts (Slow regen effects from cheap to exclusive).
Handicaps
No shoes or boots
No bows or crossbows (thrown weapons are OK)
No armour other than leather or mithril mail
No enchanted weapons other than Sting
You are Gimli
Chargen
Dwarf, male
Warrior class
Perks
You start with a War Axe and a Helmet (fitted with brown hair!)
You start with a sturdy repair hammer, you may find more later on.
You get the Dwarven Sprint power as well as the Khazâd ai-mênu Shout
You may buy 2 new types of beer in pubs and inns. Being a Dwarf, the adverse effects of aclohol are lessen and the benefits improved.
Handicaps
try to role-play an inferiority complex! You are short and surrounded with mer (elves) so you always try to outdo them (have the final word when bartering, compare weapons (easier with Weapon Sheathing), duel in the Arena (BigMod lets you challenge NPCs)...
NEVER increase your speed when leveling up (fortify effects and potions are ok)
Additional tasks
You may find small chunks of mithril in ores. Bring them to Yagrum to have a new Mithril Chainmail reforged (one that Fargoth won't take).
Find Dwarven ingots in Dwemer ruins. Bring the ingots to Yagrum to upgrade your helmet and axe.
Be sure to defeat Gaenor to prove Dwarves are superior.
You are Gandalf
Chargen
Breton, mage
elderly face
Atronach birthsign
Perks
gets a defensive staff and a grey wizard hat
Starts with one Elven Ring of Power
Has insight on the other Rings of Power locations
You may draw magicka from the Ringing Crystals
You may find Pearls of Mana when slaying Daedra
Handicaps
fire element only
may only use staves, silver one-handed long blades or Goldbrand.
Cannot use rings besides Elven Rings of Power and Wizard's Ring
Robes only, and only common until you defeat the Balrog
Additional tasks
Acquire the Staff of Magnus and the Wizard's Ring and Goldbrand (Glamdring)
You are Legolas
Chargen
Bosmer Archer
Ranger birthsign
Child of Nature background
Perks
Craft you own arrows
Moonshadow, Voice of the Emperor and Eye of Night Powers (you can blend in shadows, you're pretty, you have good eyesight)
You start with a ranger armor (cuirass, quiver and skirt)
You snipe Cliff Racers clean, not damaging their plumes as much.
Insight on Elven Cloak location
Handicaps
You are a short annoying male Wood Elf, isn't that enough?
You cannot use anything made of metal
Only eat what you kill / forage
Additional tasks
Acquire the Bow of Shadows and Auriel's Bow and bring them to the Master trainer in Marskman to improve both bows.
Final Words
Coming up, Harry Potter challenge, stay tuned!
I
I
I
I
I
I
I
I
I
I
I
I
I
Spoilers: where to find what
Information taken directly from https://en.uesp.net
Calvus Horatius is an Imperial warrior, and a Mercenary for hire. He can be found in the Royal Palace Courtyard, if you wish to hire him.
Keening: The blade is located in the citadel of Odrosal, southeast of Dagoth Ur's Citadel in the center of the island.
Adamantium Cuirass: Old Mournhold: Temple Sewers West (on a ledge in the same room as the boots)
Wolfbane: the summit of Hvitkald Peak in the Moesring Mountains
Roland's Tear: golden kanet near Daedric shrine of Ald Sotha
Gaenor in front of the Mournhold Temple
Staff of Magnus: Dreveni Hlaren in Assu cave.
Warlock's ring: Vindamea Drethan in Ashirbadon cave.
Goldbrand: Complete Boethiah's quest
Lord's Mail: the Underground Caves below Ebonheart.
Bow of Shadows: Venim Ancestral Tomb, north of the Zainab Camp.
Trueflame: The Blade of Nerevar
Umbra: hills east of Suran.
Divayth Fyr: Hall of Fyr in Tel Fyr.
Fire Atronach in Mount Kand Cavern: Molag Mar region.
Goblin Warchiefs in Old Mournhold: Tears of Amun-Shae (Azog).