Morrowind: Bard Edition 1.0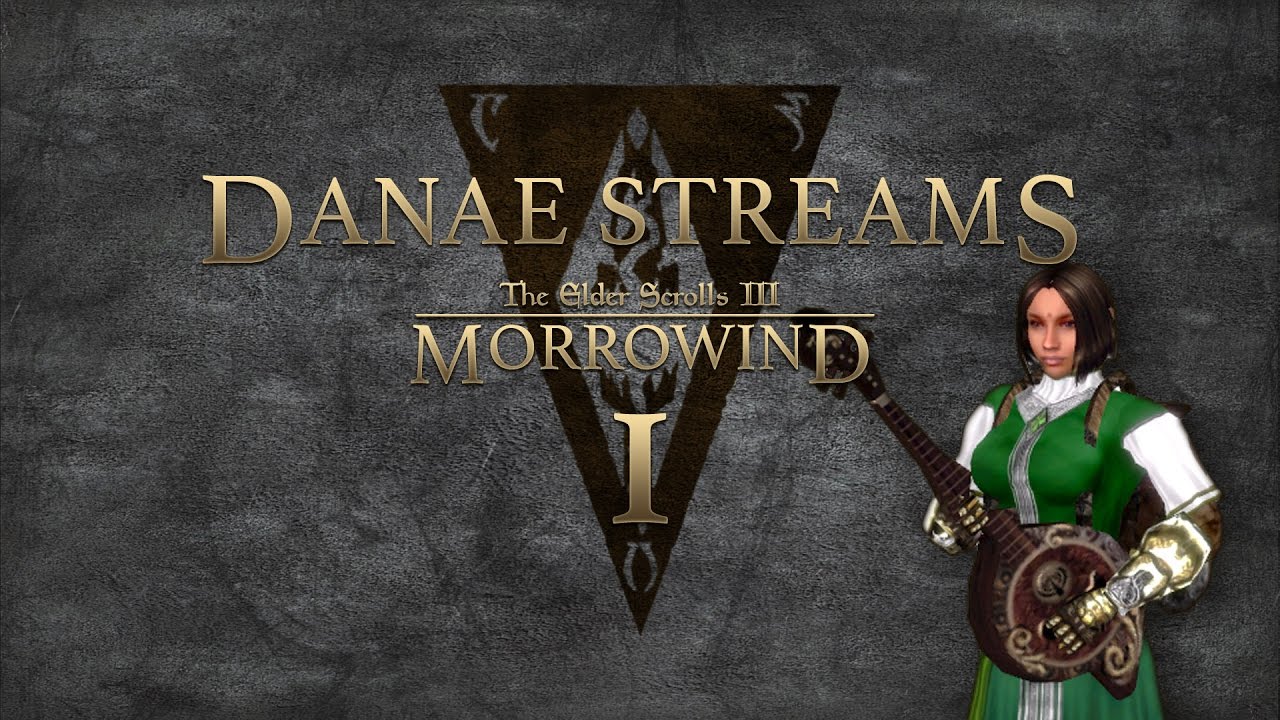 The Story
Ah, this bard, I had been looking forward to it for so long! Basically since I created A Bard's Life
I was doubly happy when I started this playthough because by then, I had a good Internet connection and I felt confident enough to livestream. Not so surprisingly though, I had still so much to learn ( I still do!)
I have the fondest memories of this bard, possibly because of the tragic end: my HD failed me and I lost everything.
Of course, I could have made a fresh install of Morrowind, installed the same mods and re-do most quests but I decided not to for a couple of reasons: 1/ I was already doing that for my fighter character 2/ I felt there had been events in this playthrough I simply could never reproduce, the love triangle with Arnandfrom the Three-Legged Guar and Julan had been hilarious due to lucky circomstances.
But every cloud has a silver lining: I needed to make a new modlist and imagine a new character, a different bard: Aureleiana, the 2.0 bard.
The livestreams
The modlist
I/ Graphic replacers
As per the S.T.E.P guide recommendations
II/ Other mods
gear/loot
Assassins Armory
Adventurer's backpack
BB_Clothiers_of_Vvardenfell_v1.1
BadKarma's and Leeloo's Serenity V2.0
Byb_Traders 300
Complete Armor Joints.
EBQ_Artifact
H.E.L.L.U.V.A. Spears
H.E.L.L.U.V.A._A.A._LIGHT 1.0
Enhanced Economics 2.0
ExpansionIntegration_1.1
Explorers25Full
IceNioLivRobeReplacerALL
LeFemmArmor
Louis_BeautyShop_v1.5
Lucky Coins
Tealpanda's Alchemy Essentials
The Hidden Pathway 2.0
The Shrine of Mephala by Westly
Westly_Presents_FCOT.
UFR_v3dot2
Unique Jewelry and Accessories
Creatures
Racers
Where are all the birds going?
Daedra
Piratelord's creatures
Fox companion
Giants Ultimate
The Undead
abotWaterLife
Packguar_Adv_MWSE_addon
Packguar_Advanced
Dungeons
EndusalRedone
Arkngthand_2.0
Npc
Raym's Absolutely Aleatory Accoutrements 2.2
Z_HlaaluCompanions
AshlanderRebels
DunmerNoblesOverhaul
Farmers&Miners
Nevena's Assistants & Apprentices 1.0
Hold it - NoM addon
Hold it - SF npc addon
Hold it - replacer
Starfires NPC Additions - Patrols Addon ver 0.5 BETA
Starfires NPC Additions ver-1.11
Westly Presents-M'harjaan
Westly's Modelling Agency
Gameplay
BirthsignsAMFun_BM
npce_mwse_patch
abotMoveOrTakeMyPlace
horationpcenhanced12-bm
Improved Trap Settings
Improved teleportation
Clear Your Name
DB_Attack_Mod3
Advanced Herbalism
ST_Alchemy_Base_1.4
ST_Alchemy_Replacer_1.1
Sri Alchemy BM List Patch
Sri Alchemy_BM
Antares Big Mod 7.62
Apoapse's Attack
mel_teleportPlugin_1_3
Bury Your Treasure
CREL_Vanilla_v2.95
Class Abilities 3.1
MNEM Artifacts
MNEM Diseases
MNEM Lockpicking
MNEM Speed
RAMF_Mer_for_NPCs
SpeechcraftBalance
Stealth Enhancements
Abot's boat
Abot's silt strider
Abot's gondolas
Abot's guars
Encumberance increaser StrX15
LeveledMagicka
Live Free
NOM 3.0
guilds/factions/quests
Adanumuran Reclaimed
A Bard's Life
ME_TTWM.
A Hermit's Request
Clean Dance of the Three-Legged Guar
Juniper's Twin Lamps
KS_Julan_Ashlander Companion_2.0
Oluhan V1.13
Random Missions - In Service to Mephala - Starfire's NPC Additions
TheBlackMill11FMN
t_lostheir
master_index
The Sable Dragon 1.7
The Merchant Fendus
Suran_Underworld_v3
Vvardenfell Druglord
Siege at Firemoth
Sotha Sil Expanded
South Wall
Dialogues
LGNPC_GnaarMok_v1_20
LGNPC_HlaOad
LGNPC_NoLore
LGNPC_Pelagiad
LGNPC_SeydaNeen
LGNPC_VivecFQ
Less_Generic_Nerevarine
Less_Generic_Tribunal
Handy plugins
MCC Leveller
PotionSorter
AlchemyFilter
mwse_Containers
other/vista
Better Seyda Neen lighthouse
Sadrith Mora closed city
Clean Ebonheart Interior expansion
Balmora Council Club
Vality's Bitter Coast
White Suran
E.V. Vivec
Mireneye's Vistas
Unique Pelqgiad
Kilcunda's Balmora
Winds of Sheogorad
Dramatic Vivec
Abot's window glow
Holidays across Vvardenfell
The holiday mod
QTA_1.0
Living Quarters
gr_ScriptImprovements