Morrowind: Fighter edition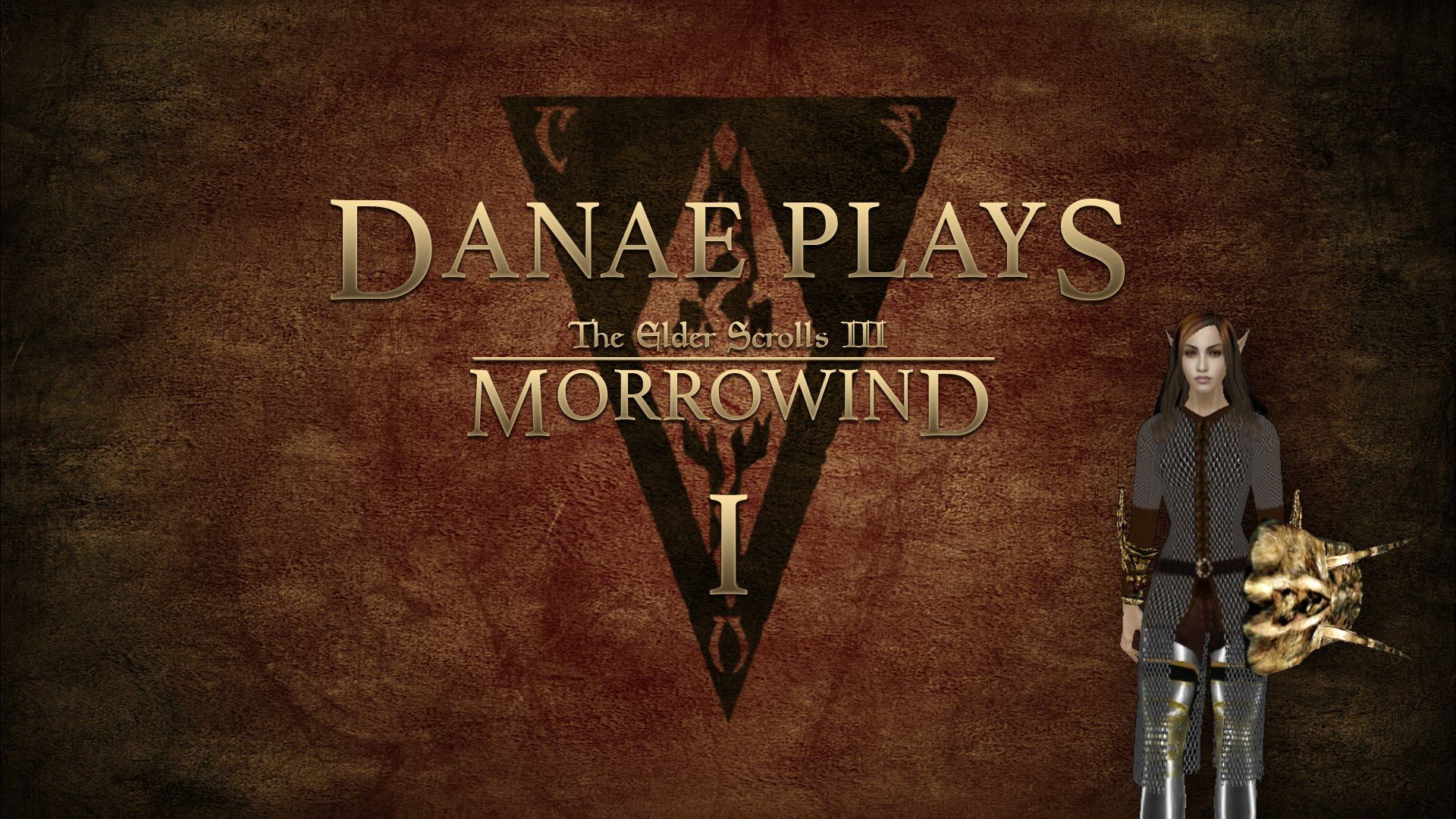 The story
This is how it all started back in June 20th, 2016. At the time I was playing on my laptop, recording with Fraps using a simple headset. The rendering of the video would take hours, and uploading it to youtube would take a day and a half.
I made my own thumbnail and was fairly proud of it, until Aurel came along and showed me what is a good thumbnail... he's made all my thumbnails since!
I'd like to think that things have improved since then but a year and a half later I find myself making the same noob mistakes: mute the mic, forget to hit the 'record' button... Being absent-minded is a lifestyle and I've embraced it since!
Gameplay
My character, Danae is a wandering warrior, she handles herself well in a fight (or so I hope) and has learnt a few things in her journeys: she can take care of her gear, brew simple potions and talk people down (again, that's the theory).
She wants nothing to do with cults and magic, her moral compass is rather good but she will steal and kill if there aren't better options. She will be joining House Redoran and the Fighters' Guild, maybe the Imperial Legion.
To make combat more fun, I am running Morrowind Enhanced (MWE). A good portion of the mods I have chosen for this playthrough add weapons and armour, companions options and many quests.
Status
Done. Find the complete playlist on YouTube
The novelty for me with this character was playing as a warrior, House Redoran and the Bloomoon expansion. I still am not a great fan of the warrior class but MWE Combat made it a lot more fun with all kinds of combos. House Redoran was not great, though LGNPC made it much better. Bloodmoon is great, unless I got caught in the blizzard while looking for a tree...
Morrowind Modlist - Fighter Edition
Cleaned and organised using Wrye Mash (Yacoby's fork) tes3cmd, testool, Mlox and Abot's mmog.
Patches & fixes
Morrowind Patch v1.6.6beta
Poorly Placed Object Fix 1.2
ExpansionIntegration1.1
Gear, items, and loot
Assassins Armory
BB Dark Brotherhood by Westly
H.E.L.L.U.V.A. Awesome ArmorCompletion Set
Shaktibookofsecrets
ProvincialBath Shoppev1
BybTraders 300
Assassins Armory - Unofficial Patch
WestlyPresentsFCOT.esp
Unique Jewelry and Accessories
Shadow Lord Armor
IceRubyKnightsArmor
Amazon War Boots 1.0
Star Boi's Epic Armory
IceOblivionMithril
Polished Plate 1.0
Clean BadKarma Clothing Vendor
House of Earthly Delights, Harem Style
LouisFF7 JENOVA's Children
The Crimson Wire by Mandamus-EV1.0
H.E.L.L.U.V.A. Longblades1H(1)
H.E.L.L.U.V.A. Longblades1H(2)
BBClothiersofVvardenfellv1.1
House of Mannequins v1.0
Morrowind Toy Shoppe
dhfurn
dhfurnstores
dhthriftshop
Potted Plants - Trib & BM
House of Mannequins - Mistform fix
Dhfurn-jmspatch
POTD paintings
Sotonhorian
Adventurer's backback
Bob's Armory
Lucky CoinsRARE
H.E.L.L.U.V.A.A.A.MEDIUM 1.0
H.E.L.L.U.V.A.A.A.Heavy 1.0
Golden Saint Armor
TeaMod2.0
Creatures
SG-MW-ecology-WW
SG-MW-ecology-WW-plugin
WolfCompver30
NX9daedraAdditions
Creatures (Semi)
Clean Abigail's Petshopv5.5NG
NPCs
Raym's Absolutely Aleatory Accoutrements 2.2
MWChildren10
Wanderers of Solstheim
MWfamily20
melComesByRoad10
CMPartners3.0
NX9GuardsComplete
Animated Morrowind 1.0
Animated Morrowind II
Westly Presents-M'harjaan
Westly PresentsHalf Races of TamrielX
Hold it - replacer
NX9GuardLGRedoranPatch
Carrie
DunmerNoblesOverhaul
DreamersExpansion
Hold it - COM addon
Hold it - Dreamers
Constance10
RavenCompanion
AnimatedMorrowind - Expanded
Staff Agency
Farmers&Miners
AAA 2.2 Addon - Westly
Quests, factions and dungeons
BTWhitewolf20
Clean Morgiah's Destiny Version
Tales of the Bitter Coast
TRIBwitchgirladvent1
Erengard Mines
EEC Expansion
CMMinorQuests1.2
The Neverhalls
ForgottenHalls
BTLokkenchild1
BTWWLokpatch1
bWWLteleport10
SGWayoftheTalon21
Wayfarer's Rest v1.21
TurenyalRedone
Welcome to the Arena! v6.6
EndusalRedone
Cities and vistas
Redaynia Village
Cavernes Overhaul -Eng
Clean Better Caldera
Thirsk Expanded Family
Aldbarrow
New Suran Extended CoM 1.5
Another Balmora
Ald Redaynia Extended COM
Holidays Across Tamriel - Vvardenfell
Ald-ruhn Expansion 2.00
Sheogorad Overhaul-Vanilla Flora
Vivec Expansion 2.0
MDP 2013
EpicSadrithMora
Bwstriderports
Handy mods
PSH 1.0
Handy Equipping
ASH 2.0
mwseContainers
Graphics replacers / enhancers
abotWindowsGlow
Better Bodies
Better Clothesv1.1nac
Murderous DreamsSafe
Better Bodies
Slof's Civilised Beasts
abotBoats
More Better Clothes
PsyVivecGodReplacerTribunal
AltShieldsRemover
Mudcrab Island
MKKhajiit
OJAI - Framerate Version
Spriggans and Twiggans
Book Jackets - Morrowind
Book Jackets - Tribunal
Book Jackets - Bloodmoon
Better Morrowind Armour Add-On 2.0
Better Morrowind Armor
Dwemer A.R. V 3.0
Better Robes
The Hostiles
The Hostiles for Bloodmoon
Gameplay
abotGondoliers
abotSiltStriders
Natural Healing
SpzStartingEquipment
MQECrowdControl
abotMoveOrTakeMyPlace
MWEBase
Horationpcenhanced12-bm
MWECombat
Morrowind Crafting 2-1
Morrowind Crafting Equipment
Princess Lokken PostQuest Improvements
MNEM Artifacts
MNEM Speed.esp
melteleportPlugin13
Encumberance increaser
MQEGarrisonedGhostgate
MQEImperialIntolerance
MQESixthHouseShrines
Natural Attribute Restoration
Antares' Tribunal Main Quest 1.2
Class Abilities 3.1
Graphic Herbalism
Intervention Improved
Epic Dagon Fel
hwBetterChargen
MNEM Magicka Regen
MNEM Lockpicking
Antares Big Mod 7.62
Morrowind Releveled
Apoapse's Attack
MCC Leveller
DABalIsraRising
Feyiin's troubles
BirthsignsAMFunBM
werewolfrealism-moononlychangeatwill
WerewolfEvolution
ACESubtitles
Dialogues
LGNPCNoLore
LessGenericBloodmoon
LGNPCMaarGan
LGNPCAldruhnv120
LGNPCAldruhnsuppl
LGNPCIndarysManorv151
LGNPCVivecRedoran.esp
LGNPCPaxRedoranv120
LGNPCSoulSicknessPatchv100
LGBMThirskExCOMpatch